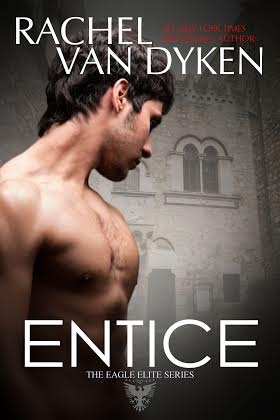 From #1 New York Times Bestselling author Rachel Van Dyken comes the third book in the bestselling Eagle Elite Series...
"As burns this saint, so burns my soul. I enter alive, and I will have to get out dead."
Chase Winter let the love of his life slip through his fingers and into the hands of his best friend and mafia boss of the Abandanato family. Now that he's been given a second chance to right a wrong--he refuses to let his own selfishness stand in the way. The only problem? He's not fully in possession of his heart, so when Mil De Lange, the girl who's innocence he stole, and heir to the worst of the worst mafia families in the US, asks him for a favor. He actually says yes, not realizing that that one yes has the power to destroy them all.
Mil's been in love with Chase as long as she can remember, but as the years went by, the love turned to hate, and now that he's agreed to help her, she's wondering if she made a fatal error. Because Chase isn't a teenager anymore. He's a hot blooded male, bent on owning every part of her body and soul, and willing to kill anyone in his path who dares stand in the way.
It's time for secrets to finally be revealed...but make no mistake, it's going to take a lot of bloodshed for those truths to be discovered.
You've never read a New Adult Mafia story like this before...loyalties will be tested, lovers reunited, and friendships obliterated. Welcome to the Family. Blood in--No out.
BUY LINKS
She was my beginning - my end. The woman I wanted by my side until we were two cranky old people who still carried weapons and shot at squirrels when they ran in front of us.
I wanted a future with her.
I wanted a present with her. I just wanted her.
The Eagle Elite series is the first series I've read by Rachel Van Dyke, and while the first book in this series wasn't that great something made me carry on reading the other books and boy did it pay off! I just love reading books where stuff happens, you know! I mean my first love is romance, but I love mystery, murder, drama and action so much! I love the rollercoaster of emotions when I read an intricate plot! The Eagle Elite series is one of those hit or miss series, where you're either gonna love it or you're gonna go running off into the tree and hide until it's over.
Entice, is Chase and Mil's book.. Mil is now the boss of the De Lange Family! Unfortunately none of her family want her as the boss, and her life is in danger because of it. Because of her father, the De Lange's have no morals, stooping as low as killing their own family as long as they can get power and money. To protect herself, Mil proposes a marriage arrangement to Chase. No emotions involved, it would be a business arrangement. What she doesn't tell him is that she loves him, and has since she was fourteen years old.
Chase is still pining for Trace, and everyday that he's around Trace and Nixon is a trial. He's still wants what he can't have, until he starts spending more time with Mil that is. And sees what a strong and kickass woman she is. I'd have to say that I definitely preferred Mil to Trace. Mil had a good head on her shoulders, and while she needed Chase's help she didn't sit back and let him take care of everything, she played an active part. And yes she loved Chase but she didn't beg and plead for his attention.
Chase had my heart, but he would never have my soul, it had been taken from me the same day I'd earned my scar, never to be returned.
He'd been right about one thing. I'd refused to feel because I'd refused to go down without a fight. I was going to finish what the De Langes started, and they were all going to die.<.i>
Besides Chase and Mil's POV, we get a POV from Nixon and Tex as well. Some pretty crucial information about Tex is revealed in this book. Tex always seemed like the goofy one in previous books, the lackey that everyone shunted around. But it's quite obvious he's not, Tex is a cold and methodical killer through and through. I'm very excited to read his book because of this!
A new villain is also revealed, the Godfather of all the families, the biggest threat to Mil's life and everyone else who is around her.
"You are the bravest person I've ever met."
She closed her eyes.
I gripped her chin. "Open your damn eyes."
She tried to jerk back, so I squeezed harder.
"You're going to look at me when I talk to you."
Her lips trembled.
"You're incredible."
This book could have easily been a five star read for me... because I'm easy like that. But I had one little problem. The sex scenes. I mean at one point I was reading and suddenly realised the characters where having sex and had no idea. Here's a tip, it's called a pussy and a dick. Coming into someones heat is way too vague for me. FYI that was not a direct quote just an example.
Other than that I thoroughly enjoyed this book and I'm really scared that we're running out of characters and the series is going to come to an end, Hopefully the author can create another awesome Mafia series to prevent that!