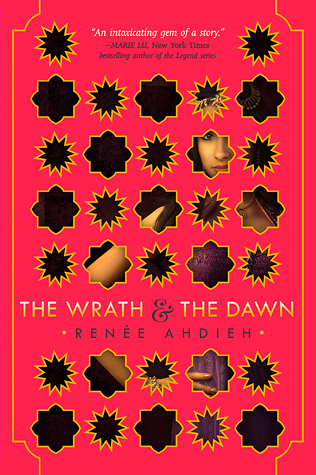 BLURB
A sumptuous and epically told love story inspired by
A Thousand and One Nights
Every dawn brings horror to a different family in a land ruled by a killer. Khalid, the eighteen-year-old Caliph of Khorasan, takes a new bride each night only to have her executed at sunrise. So it is a suspicious surprise when sixteen-year-old Shahrzad volunteers to marry Khalid. But she does so with a clever plan to stay alive and exact revenge on the Caliph for the murder of her best friend and countless other girls. Shazi's wit and will, indeed, get her through to the dawn that no others have seen, but with a catch . . . she's falling in love with the very boy who killed her dearest friend.
She discovers that the murderous boy-king is not all that he seems and neither are the deaths of so many girls. Shazi is determined to uncover the reason for the murders and to break the cycle once and for all.
6 STARS!!!! GAH!!! My favourite book this year... so far!!!
Just one boy and one girl.
This.
Oblivion.
I have been waiting for this book and a heroine like Shahrzd forever! The fact that this book came out last year proves that I've been living underneath a rock. I can't even begin to tell you how many passages I highlighted in this book. If you haven't read the synopsis, I should mention that this book is said to have been inspired by
A Thousand and One Nights
and I'll also mention that I did not start this book looking for similarities. As an avid fanfic reader, these thing rarely bother me.
After reading the first chapter I just new that this was that book that would pull me out of the slumps that regularly find myself in. The authors writing just connected with me, the story was like coming home. Gah. I can't explain it!
Shahrzd, is a girl out for revenge. She volunteers to be the Kings next wife after the senseless killing of her best friend, Shiva. She vows to avenge Shiva's and so many other girls who never made it past the first night as the Kings wife. But she doesn't expect to fall in love with him...
I will live to see tomorrow's sunset. Make no mistake. I swear I will live to see as many sunsets as it takes.
And I will kill you.
With my own hands.
Watching the story unravel and going through every emotion with Shahrzd was such a thrill. I mean from the get go it's pretty clear that she isn't going to go through with it. Thank goodness, otherwise we wouldn't have a story. The scenes between Khalid and Shahrzd were so intense, so gut wrenchlingly perfect... I'm going to be reading this book again, I think that tells you just how much I loved it.
I beseech you, my star...please see past the darkness. There is potential for boundless good in the boy I knew. Trust that the man you see now is a shadow of what lies beneath. If you would give him the love that will enable him to see it for himself. To a lost should such a treasure is worth it's weight in gold. Worth it's weight in dreams.
Now it does end in a cliffy but the next book comes out in May, so that isn't too bad right?