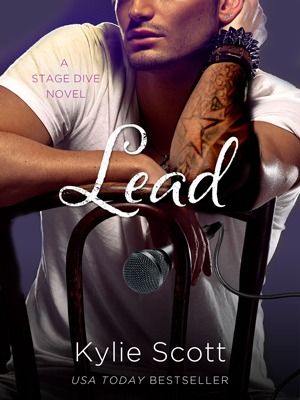 Stay up all night with the sexy rockers in Stage Dive, the epic New Adult series from New York Times bestselling author Kylie Scott, author of Lick and Play.
As the lead singer of Stage Dive, Jimmy is used to getting whatever he wants, whenever he wants it, whether it's booze, drugs, or women. However, when a PR disaster serves as a wake-up call about his life and lands him in rehab, he finds himself with Lena, a new assistant to keep him out of trouble.  
Lena's not willing to take any crap from the sexy rocker and is determined to keep their relationship completely professional, despite their sizzling chemistry. But when Jimmy pushes her too far and Lena leaves, he realizes that he may just have lost the best thing that ever happened to him.
"Say it."
A rare smile.
"I love you, Lena."
I can't even express how much I love the series! All the characters are amazing and each story is unique with their own way! In the beginning my favorite character was David, then Mal and now OMG this guy, *sigh* He won me over! Once again Kylie Scott managed to captivate me with her amazing and hilarious characters!!!
This book is about David's brother Jimmy Ferris.The lead singer for Stage Dive.I knew from the beginning that this book will be different. I mean Jimmy isn't like the other boys. He has previous issues with drugs and alcohol and now he needs to hire an assistant who will keep him company and will check on him.
He has had a lot assistants but nobody could deal with him! Until Lena the girl who will change his life!
Lena has gone through several heartbreaks and she know about bad boys!She knows that she must stay away of them! But because she needs the money she accepts the job.
Lena and Jimmy do not get along from the beginning, they need time.This is what makes the story so real Because in the real life, the same will have happened! At the beginning they become friends and believe me I liked them so much together! They made a hilarious combination! I laughed so much!
A nod.
"Feeling a little emotional, huh?" I petted his hair. "That's okay. It was an emotional blow job."
Jimmy instantly became one of my favorite boys, now finally that I read his story! In the first book he was a jerk but he intrigued me and I wanted to know more about him! And when I learned that this was his story I was so excited! He is sexy and funny! And finally we learn so many things about him! He learned to trust Lena and they were friends.
You're my best friend.
You're my girl."
I loved Lena! She is tough, hilarious and smart! She is definitely one of my favorite heroine! She was so independent I think I have a crush on her!
Except of hilarious these two also are so hot!!!
I'm a groupie of Stage Dive woohoo :))))
I can't wait for Ben's book! I highly recommend all the book in this series!!!
You must meet the members of Stage Dive!!