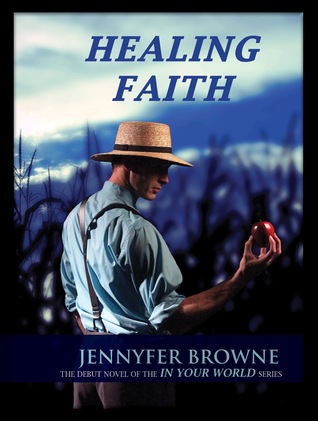 Kate Hill is fleeing from her abusive boyfriend when her bus breaks down in rural Iowa. With her abuser in pursuit, she seeks sanctuary with an Amish family after hiding in their buggy. She discovers a world unlike hers in many ways: full of love and sense of family that she had never experienced in her own world. But with the love also come prejudice and a faith that she has never experienced before.
Nathan Fisher is an innocent Amish man questioning his faith after the loss of his family. Struggling on his own to keep his family's farm working, he discovers his guiding angel when the English woman becomes his inspiration to his heartsick soul. He knows it would be wrong to fall for this woman, whom the Bishop says is merely temptation to lead him astray. But perhaps that is what his God has sent for him. A fresh start, even if it means the risking all he has ever known.
Kate must overcome the prejudices of a guarded community and confront the harsh brutality of her world when it comes to find her in order for her to find a life she can be proud to live. Nathan must find his lost faith while battling the forbidden desire he has for the Outsider that would surely leave him shunned from all he has ever known should he give into his feelings.
Together they will discover that love can break down boundaries in cultural differences, and heal broken faith.
Purchase Link
Christine's Review

5 Stars!
I was completely taken with this man. His mouth both in how it moved and what he said to me had me enthralled.
When I started reading this book, I thought it would end up in the endless pile of DNF's that I've been accumulating lately. But I was desperate because nothing was sticking and I was getting distracted, and seriously what the hell is going on with me.
So at 1 AM on Sunday morning I started this little gem and I couldn't stop reading. To be quite honest I was afraid the book would be preachy, and well that really wasn't what I was looking for. All I wanted was an epic love story, that fed my particular tastes. I rarely like beta heroes let alone love them, it's just not in me, but Nathan was so freaking amazing that I fell in love with him immediately. And after reading one of the poems he wrote for Kate I was an oozing mess of emotions.
So much beauty in your being.
Surely you are an angel sent down to me
If you read any of the above ramblings and feel the need to read it too. You should know something first. This is a pushed to publish fanfic, I love fanfics so this never deters me, but I just had to put that out there. If you're worried about the religious bit, here are my thoughts. This book is about a girl who falls in love with a guy who happens to be Amish. The book is not preachy, but the backdrop is an Amish community and religion is an integral part of Amish life. Does the help? I hope so!
Here's a little more information on the story
Kate Hill, is on the run from an abusive boyfriend. She's tried countless times to reach out to her father for help, but to no avail. He's the town councilman and her boyfriend's father is the town sheriff. It seems political allies are more important to her father than the well being of his child. On her way to see her sister, the bus she's on breaks down and while waiting for another her boyfriend shows up. Desperate to get away, she hides in the buggy of a stranger.
The Berger's become Kate's new family, and it's while living with them that she meets Nathan Fisher who's recently lost his entire family. I won't go into further detail but there are a lot of factors going against Nathan and Kate's relationship. The Bishop, who feels that Kate will tire of Amish life and leave Nathan. The looming threat of Kate's ex boyfriend finding her, Kate is also afraid that staying with the Berger's will bring violence to their lives because her boyfriend is an aggressive man.
In the twenty-four hours I had been with this family. I had not once heard Jonah belittle his wife like my dad had done all those years. If anything Jonah Berger worshiped his wife, and she him. It was completely foreign to me, for I had never seen my family act as the Berger's did.
So what I got was truly an amazing love story, it was wildly romantic. Yet not so much that I felt like gagging or rolling my eyes. There was enough mystery and danger to keep me from being bored. When ever I get stuck in a bookslump, one of the best remedies is deviating from what I normally read, and this worked like a charm.