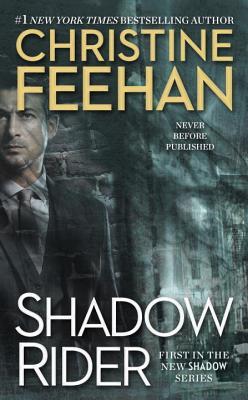 The #1 New York Times bestselling "queen of paranormal romance"* is back with a sexy new series starring a Chicago crime family that hides a dark, mystical secret...
Whether it's fast cars or fast women, Stefano Ferraro gets what he wants. When he's not fodder for the paparazzi, he commands Ferraro family businesses—both legitimate and illegitimate.
While their criminal activity is simply a rumor yet to be proven, no one knows the real truth.
The Ferraros are a family of shadow riders capable of manipulating light and dark, an ability Stefano thought ran in his family alone—until now…
With little left to her name, Francesca Cappello has come to Chicago in hopes of a new life. She wasn't expecting to attract the attention of a man with primal hunger in his eyes, driven to claim her as his to protect and to please. And if he discovers her secret, it could ruin her...
DNF @90%
Oh. My. God.
I am a huge fan of Christine Feehan's work especially her Leopard People series, which is filled with smutty goodness but this? Like every Feehan fan out there, I jumped for joy when I heard she was bringing out a new series. PNR. Yes. Mafia. Yes. Just yes, yes and yes! But this book was a huge disappointment, and I don't say that lightly. It was bad. I still have a very little idea as to what these Shadow Riders are capable off or even what they are, this book was just sex scene, after sex scene, after sex scene. Maybe everything got cleared up in that last 10% but I doubt it!
The violence of my disappointment right now is immeasurable. Where was the world building, yes this is an urban fantasy but where is the back story? I want to know these people, their connections to one another!!! The plot! Where is it? The first scene starts off with Stefano seeing the woman of his dreams walking down the street. Cue alpha male behavior. Our heroine, who was probably the most insipid, weak and I don't know what else little thing, gave a weak attempt and resistance but she gave in surprisingly easily when everything was said and done. Stupid decision after stupid decision. What am I going on about? Not much else happened here. The heroine would make a stupid decision, Stefano would activate his alpha male mojo "turbo". Cue weak resistance from heroine and then they fall into bed. Then the best sex scenes ever.
Repeat.
But seriously the sex scenes were scorching hot, but that's not why I'm here.
Let's not forget about the fact that wherever these two show up, everyone around them would stop whatever it is they were doing, whatever the scene. Everyone was watching. Seeing as for the majority of their scene making would be done in public places like restaurants and eateries, it's a wonder how these establishments kept afloat.
Look I know she's gorgeous and everything but how many times do you have to tell me how thick and shiny her hair is? And every single guy that meets her is just enamored? And the age old, I think I'm ugly but everyone else thinks I'm pretty is tired. Just stop. And her annoying friend who thought everything was either supercool or the Ferraros were superrich, or just plain super anything, was another factor that just ruined this entire book for me. On another note I will most definitely be reading book 2 because I'm hoping its Francesca's book, she and Saldi seemed to have something pretty decent going on.
Once again please don't take my word for it, there are enough 5 star reviews out there to prove that this book was fantastic and that I'm just full of it. So please read those for motivation.