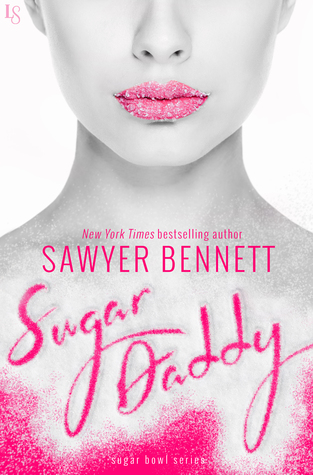 Seduction has never been so sweet! The New York Times bestselling author of the Cold Fury series—Alex, Garrett, Zack, and Ryker—returns with the first novel in a hot new trilogy.

Sela Halstead lost her innocence in a way that no sixteen-year-old should ever have to endure. She's spent years trying to forget that night even while wondering about the identities of the monsters who brutalized her—until a telltale tattoo flashes across Sela's TV screen. The incriminating ink belongs to Jonathon Townsend, the millionaire founder of The Sugar Bowl, a website that matches rich older men with impressionable young women. Obsessed with revenge, Sela infiltrates Townsend's world, only to come face-to-face with a tantalizing complication: Beckett North, his charismatic business partner.

The tech mastermind behind The Sugar Bowl, Beck always gets what he wants, in business and in bed. And yet, for a man who's done every dirty thing imaginable, there's something about the naïve, fresh-faced Sela that sparks his hottest fantasies. Because with her, it's not just about sex. Beck opens up to her in ways he never has with other girls. So why does he get the feeling that she's hiding something? In a world of pleasure and power, the shocking truth could turn them against each other—or bind them forever.

Note: Sugar Daddy ends on a cliffhanger. Sela and Beck's story continues in Sugar Rush and Sugar Free!

Rating Clarification: 3.75 Stars
Infiltrate.
Murder.
Repeat.
What in the world just happened?!
I'm torn between crying or going into an angry rage destroying everything in my path. This book completely surprised me, when I started reading it this afternoon I kind of expected an erotic thriller which it wasn't. But then again the story still drew me in, Beck and Sela's relationship was pretty sweet and a pleasure to read about.
I went in blind here, and when I realised that Sela was a rape victim, I got worried because we know how that goes:
1. I cringe whenever she's in a sexual situation or
2. She falls apart whenever she's in a sexual situation.
But kudos to the author for handling this part of the book very well. It was pretty satisfying for me since I do enjoy reading erotica. What I'm trying to say is that the sex was good, but Sela wasn't miraculously cured of her mental trauma because Beck had a magic penis, it was believable.
Right now I'm not sure how I feel about any of the characters in this book. Sela, is obviously a very tortured individual and her trauma has left its scars in obvious ways. But I couldn't help but feel like some of her thought processes where a bit of obsessive. Her solution for her problem is a bit drastic, and she's a psych student I mean at some point even she has to realize that her mental health is starting to go downhill.
Beck's character was an absolute dream, right up until the end. Quite frankly some things are unforgivable and his actions where just that. Unforgivable. It'll be interesting to see how the author can salvage his character. JT is quite simply the devil's spawn, he was just the right amount of slick and oily to make me sick, and the amount of vitreous content that came out of his mouth was staggering.
Despite all the things I didn't like about the characters in this book the author did manage to draw me in. Like in real life, the characters in a book are never perfect, they might not be easy to like but their story still intrigued me as a reader.
ARC kindly provided by publisher via Netgalley in return for an honest review