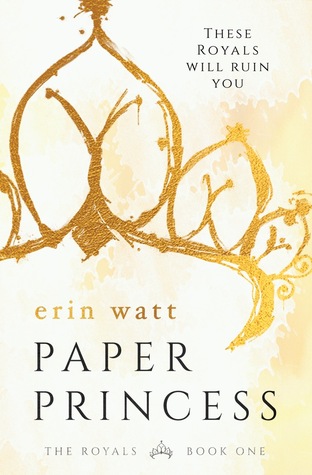 Paper Princess by Erin Watt
Independently Published
Expected Release Date: April 4, 2016
Pages: N/A
Digital ARC Received from Authors
From strip clubs and truck stops to southern coast mansions and prep schools, one girl tries to stay true to herself.
These Royals will ruin you…
Ella Harper is a survivor—a pragmatic optimist. She's spent her whole life moving from town to town with her flighty mother, struggling to make ends meet and believing that someday she'll climb out of the gutter. After her mother's death, Ella is truly alone.
Until Callum Royal appears, plucking Ella out of poverty and tossing her into his posh mansion among his five sons who all hate her. Each Royal boy is more magnetic than the last, but none as captivating as Reed Royal, the boy who is determined to send her back to the slums she came from.
Reed doesn't want her. He says she doesn't belong with the Royals.
He might be right.
Wealth. Excess. Deception. It's like nothing Ella has ever experienced, and if she's going to survive her time in the Royal palace, she'll need to learn to issue her own Royal decrees.

Looking for angst and drama that's so good it hurts, but you can only find it in YA romance? Do you hate fade to black sex scenes but love sexual tension that will obliterate you ovaries? Well I have just the book for you!
Okay, so the infomercial's over now, but you get my meaning right? Man did I love reading this book!
Five brother's (including twins), all of them smoking hot, arrogant, entitled and rich man-whores.
Enter Ella, the poor girl from the wrong side of the tracks, thrust into their world of elitists complete with mean girls and all sorts of high school paraphernalia. The ruling family is the Royals, you're nothing until you've received their stamp of approval and no one is safe from their reign least of all, Ella, even if she lives with them.
Yes there're five brothers but Ella has an immediate connection with Reed Royal, who also happens to be the leader. Did I mention he was smoking hot? Well, he is. He's also stoic, broody, prone to bouts of just staring angrily at Ella and YASSSSS, did I love it!
"Here's the deal," he says. "My brother and father are off-limits to you. If you have an itch, you come to me. I'll take care of it.
Ella has been working at a strip bar while trying to finish high school, that is until Calum Royal walks into her life. He's the long time friend of the father she never knew and now that both her parents are dead he's her legal guardian. Ella being the feisty heroine that she is fights him tooth and nail but she is a minor so she grudgingly moves in with him and his five sons.
The Royal boys are not what I expected. They don't look like rich pricks in preppy clothes. They look like terrifying thugs who can snap me like a twig.
Paper Princess is a smashing start in what promises to be an amazing series and I am so freaking excited! If you happen to see this but don't feel like reading my review just have a look at "Who I would recommend it to and you'll know if it's something you would enjoy and if you're still not sure then just give it a go because trust me, it just sucks you in.
"You belong with us. You're the best thing that ever happened to this family."
ARC kindly provided by authors in return for an honest review