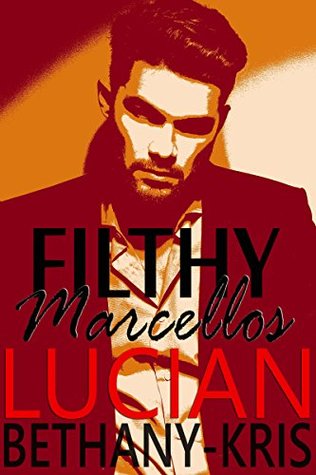 Lucian Marcello is aware of the expectations following him as the oldest son of one of North America's most infamous Cosa Nostra Dons. Family in his world is more than blood and sharing a last name. It's the honor, respect, business, and the life. Being a Capo is just a stepping stone until it's time for him to take on the role of underboss but a chance meeting with her could be the one thing he'd risk it all for.

She is exactly what he didn't know he was looking for.

Jordyn Reese spends her time trying to stay under the radar of a man who wouldn't think twice about killing her. Unwillingly affiliated with a dangerous MC gang, her life is dominated by the men surrounding her and her future rests solely in how useful she can be for them. The last thing she needs is some Mafioso gaining her more unwanted attention from the club.

He is everything she should stay away from but can't.

Notoriously violent when it comes to getting what he wants, Lucian will stop at nothing to make the target on Jordyn's back disappear. But sometimes the worst threats are the ones you can't see until it's too late. The truth behind Lucian's history is about to take center stage in more ways than one, and it'll either save him … or kill him.

This world leaves everyone a little filthy.

****

Filthy Marcellos: La Cosa Nostra is not just a choice of regime and routine, it's a culture. Born as mafia royalty, the Marcello brothers were raised ingrained with the beliefs and rules of what it meant to be a Mafioso prince. It is for life. Their status is considered a given right. They will always be these people. They will always be Marcellos.
4.5 FILTHY MARCELLO STARS
I just feel like going "Uuuuurgh!!! At last!" I mean come on it feels like it's been ages since I've read a book that I devoured overnight let alone compelled me to write a review. Mafia romances are pretty popular at the moment and as much as I appreciate that, I don't enjoy every single one I read. And lets be honest the plot is basically the same, so the author has to use her writing ability, basically give an old plot fresh life by writing it well.
What I loved about this book was the fact that, although it is a romance and of course I want the romance at the forefront, but I also need to feel like I'm reading a book about the Italian Mob. It has to feel authentic, and that's what this book gave me. My idea of an authentic mafia romance.
Our main characters are Lucian and Jordyn. Lucian is a Marcello, the creme de la creme of the mafia his family is at the top of the food chain when it comes to the mafia since his father is the Don. He's mafia prince with a dark past, being the illegitimate son of the previous Mafia Boss will do that. When he was only six years old, he had to run and live on the streets or be killed. He's come a long way though, he was taken in by his father's best friend who also happens to be the reigning Boss.
Jordyn is a widow, at only 21 years old her life is in jeopardy. As the member of a MC outfit her previous status of an old lady can no longer protect her. She's club property, forced to do the bidding of the club president who obviously hates her guts.
Jordyn and Lucian meet at the confessional booth in church of all places. Now this is where I feel I have to warn you, Lucian and Jordyn's romance was positively whirlwind, in other words we had a bit of an insta-love situation. Now I say this in hindsight because it never bothered me. This was just one of those times.
"Thank you."
"Never thank me. Not for helping you, sweetheart. The only thing I need from you is for you to tell me what you need, when you need it. If I can, I will always give it to you."
"Safety," Jordyn whispered.
Lucian nodded, his fingers ghosting over the multiple bruises littering her arm. "I can do that."
***************************
"Don't cry," he said again, kissing her jaw.
"This is what people who love do, Lucian. They cry when someone they love hurts."
"But I don't hurt with you, Jordyn."
When Lucian puts Jordyn under his protection, he brings down the wrath of the MC outfit down on his family. Jordyn's life is at risk and Lucian will do anything to keep her safe. I loved how close the Marcello family was, I loved how Cecilia Lucian's adopted mother doted on her husband and boys and welcomed Jordyn with open arms. It just made me feel all warm and fuzzy inside. Don't get me wrong the Marcello boys are Made men but when it comes to their mother they're still just boys. Jordyn character came through pretty strong too, once she felt safe with Lucian I have to say she showed herself to be a strong and capable woman. So there's definitely no doormat or meek heroine in this story.
Plot wise the story had me riveted, Lucian and Jordyn's relationship was intense, Lucian was helluva sexy, and caring and possessive of Jordyn.
*swoons*
The next two books are about Lucian's brothers Gio, the baby of the family and Dante, Anthony's underboss. I have to say I'm very excited to read their stories. Hopefully I'll love Gio's character too, even though he seems to be a bit of a goofball!
Their life didn't fit into society's norms. It didn't fucking have to.
Lucian wasn't an honorable with this Cosa Nostra roots and the gun always hidden at his back, but was Jordyn's.
And with her, it was good to be filthy.
BUY IT HERE
AMAZON