"If she truly knows her business, a woman has the mind of a diplomat, a general, and Cleopatra, all in one."
Anne-Sophia Duncombe is ruined, a victim of her father's high-stakes gambling. Stolen moments at the piano are her boon. Wilhelm Montegue is a washed up war hero, rumored insane. His "condition" - modern diagnosis: savant autism - is the source of his gift for composing music. Anne-Sophia and Wilhelm thought they had missed their chance for love, but anything can happen in the music room.
Anne-Sophia is in exile, hiding from her villainous father, Lord Chauncey, who tried to force her into marrying the repulsive Lowdry, his partner in crime. She outsmarted them and ran away, but loneliness is its own captivity. As a last resort before the convent, Sophia attempts a radical scheme--a life of humility and disguise.Wilhelm Montegue, Earl of Devon, is a washed-up war hero who drinks too much, offends his neighbors with his harsh wit, and breaks furniture when his temper flares. Always in the shadow of scandal and absent from society, he is the subject of intense gossip. The town whispers that he is insane and guilty of unnatural proclivities. He is barely excused by his brilliant mind and swarthy good looks.Lord Devon is bewildered that his newest housemaid has sparked such an irritating fascination in him. Why must she be the most exquisite woman he ever laid eyes on? Chaste and bound by honor, he vows to behave himself, even if her voice is a siren song. He knows she is keeping secrets, and he finds her scent of danger intoxicating . . .
"It's true you are the most clever woman I know."
"Then which man of your acquaintance is more clever?"
"Touché." He chuckled. "You are by far the cleverest creature I have ever met, man, woman, or animal."
What a lovely book! I found this book by accident but when I read that the hero was autistic or rather, had Asperger's syndrome I knew I had to read it immediately. The Madness of Lord Ian Mackenzie is one of the few other books I've read, where the hero has Asperger's in a historical setting. Song for Sophia did not disappoint with it complex characters, sharp humour and the amazing relationship between Sophia and Wilhelm!
Sophia escapes the abusive and tyrannical rule of her father and goes into hiding, she disguises herself as a lowly house maid in Wilhelm's household. But when Wilhelm who has never felt any desire for a woman sees her a new obsession begins. Sophia goes from maid to governess to Lady Devon, to be quite honest this all happened so quickly my head was spinning but it didn't hinder my enjoyment of the story at all.
"His breath quickened and his lips parted as he stared. "An effective manipulation. I cannot look away, and now I have this embarrassing urge to lick you." His voice sounded low and smooth with a hint of flirtation, like chocolate liqueur."
I love a book with a good villain and Sophia's father definitely fit the bill. With him doggedly trying to get Sophia back into his clutches no matter the cost, bribery and deceit were all in a days work for him. But with Wilhelm he'd met his match, I loved how dedicated and protective Wilhelm was of Sophia. If you enjoy the strong, protective yet caring hero, you'll love Wilhelm!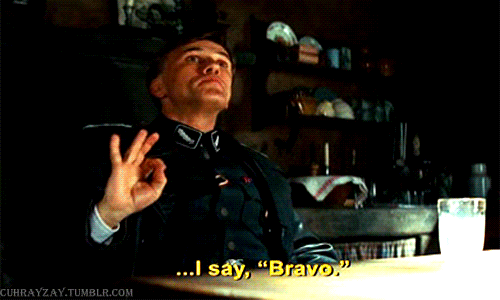 I can't wait to read about the rest of the Rougemont men!