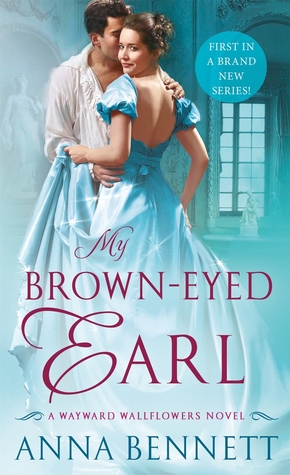 NEVER SEND A DEBUTANTE
William Ryder, Earl of Castleton, is at the end of his noble rope. Not only has he broken ties with his longtime mistress, his mother has publicly announced her wish for him to marry a suitable young lady―if only to help him raise the twins left in his care. Hiring a governess should solve some of Will's problems…but when he meets the candidate in question, he finds himself in an entirely new predicament.
TO DO A WALLFLOWER'S JOB
Miss Margaret Lacey is brainy, beautiful, and, once upon a time, Will's betrothed. But she bowed out of the engagement―and, since then, has never been the same. A tragic accident robbed her of everything, and now, at age twenty-three, her marital prospects are slim to none. Penniless but not without pride, Meg convinces the vexingly handsome Will to hire her for the job. What neither of them could have expected from this arrangement, however, is an attraction that burns stronger than ever. Are these two lost souls finally ready to be schooled in the art of love?

"I lack wealth, status, and beauty," she said matter-of-factly. "Pray tell, what power is it that I wield?"
Slowly, he lifted his hand to cup her cheek and brushed a thumb over her satin-soft skin. "You have power over me."
This was such a sweet story, probably a lot flufflier than I'm used to but I had a stupid smile on my face the entire time I was reading it! The relationship Meg had with the twins was so endearing and although I ground my teeth a few times because of Valerie and Diana, having them in the story made this an absolutely heart-warming read.
When Will's late cousin's mistress (whew! that was a mouthful) leaves two little girls on his doorstep his next step is to find them a governess. What he doesn't count on is hiring the woman who slighted him years ago when they were to be betrothed. Meg is in dire straights, her generous uncle took her and her two sisters in after the tragic death of their parents. But taking care of the girls and his failed attempt at introducing them to society has negatively affected his finances. Which is why Meg decides to look for employment as a governess, she's so desperate she even swallows her pride and accepts a position offered by the man she was meant to marry.
"I suppose I like having someone to share the view with."
Odd. He sounded almost lonely.
"And because," he continued, "while I do enjoy our little batlles of wits, I also like to see you smile. Your smile is..." He rubbed the stubble on his chin as he searched for the words. "Bright, fleeting, rare. Like a comet shooting through the midnight sky."
Meg and Will's relationship was truly a pleasure to read about, their connection practically sizzled. There was also plenty of angst because although Meg could see that what she and Will had could be so much more, but her loyalty to her parents was a huge barrier when it came to her happiness. Her actions so many years ago, lead to a lot of guilt regarding her parents death. It was so refreshing reading about a hero who new what he wanted, and just went after it. While I love a torn and tortured hero who thinks the heroine would be better of without him, reading about one who wants his woman without wavering is so much better.
There was a bit of mystery in the story which I really enjoyed, but My Brown-Eyed Earl is a true romance so it's perfect if you're looking for a historical romance with a touch of humour and plenty of heart.
"You and me Meg." he whispered seductively, "we are perfectly matched. No one else makes me feel like you do."