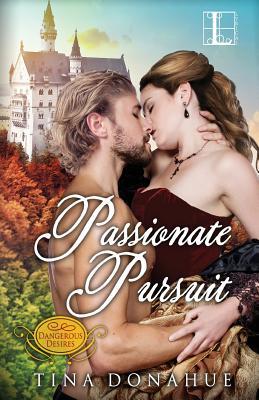 Is their passion strong enough to break her chains?Andalucia Spain, 1489: Innocent Beatriz is desperate to escape the threat of a miserable marriage to a cruel Marquis. Forced into the betrothal by her ruthless merchant papa, her only hope is to conceal her identity and become a servant in a nearby castle-a life drastically different from her comfortable upbringing.
Tomas doesn't know what to make of his well-spoken new servant girl. Her beauty and charm captivates the military hero; her mysterious nature intrigues him. And the desire she ignites burns brighter with each glance, as does his longing to claim her for his own.
Beatriz can't resist Tomas' passion nor deny the heat of her own. But neither the lush countryside nor the walls of the opulent Moorish castle can entirely protect her-and if he were to discover her secret, she could be torn away from him forever. Yet how can she sustain his love if she's living a lie?"



"Why do you fight me?" He pushed his fingers through his hair. "What are you so afraid of?"
After reading Wicked Whispers and reading an excerpt of this book I knew I had to continue reading about the De Zaya brothers, and while I really enjoyed Passionate Pursuit I have to say Wicked Whispers is a firm favourite in the series.
One of the things that drew me in when I read Passionate Pursuit was the age old Noble man falling for a common girl trope, its a favourite of mine and while it may have only been in an illusion in this book it was pretty convincing. Beatriz is on the run, she flees her home after her father promises her to a less that desirable Marquis. Beatriz's father is a cruel man, who treats her like a treasure in public and like a possession behind closed doors.
When she runs away from home and lands up in Tomas' household, he's immediately enarmoured realizing how different Beatriz is from the rest of his staff. His "passionate pursuit" of her is relentless, and even though Beatriz tries to resist, her own yearning for him overrides her better judgement. Their relationship is sensual and intense, and I've come to expect detailed and well thoughthout love scenes from this author. There is an abundance of interaction between the main characters. Which brings me to what I didn't like about the book. While I appreciated the beautiful and sensual romance, I felt like the actual plot got lost sometimes. I obviously wanted all of Beatriz' troubles to be worked out except at times I felt like I was reading scene after scene of Tomas and Beatriz' rendezvous. To the point where I wondered if Tomas would ever know the truth. I just wish there'd been more focus on why Beatriz was there and that Tomas had used his moments with Beatriz better.
On another note I really enjoyed how Donahue writes about really strong woman who embrace their sexuality especially seeing as it is during the time of the Spanish inquisition and such behaviour was frowned upon. I was really fooled in the end and I loved how the author was able to sneak in some unexpected twists. I'm left wondering which De Zaya brother will fall in love next. I'm thinking Yolanda needs to grow up a bit first because I really need to read about her falling in love!
ARC kindly provided by publisher via Netgalley in return for an honest review