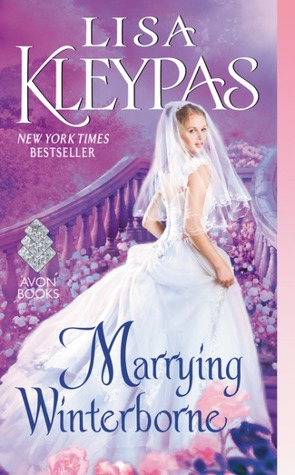 A ruthless tycoon
Savage ambition has brought common-born Rhys Winterborne vast wealth and success. In business and beyond, Rhys gets exactly what he wants. And from the moment he meets the shy, aristocratic Lady Helen Ravenel, he is determined to possess her. If he must take her virtue to ensure she marries him, so much the better . . .
A sheltered beauty
Helen has had little contact with the glittering, cynical world of London society. Yet Rhys's determined seduction awakens an intense mutual passion.
Helen's gentle upbringing belies a stubborn conviction that only she can tame her unruly husband. As Rhys's enemies conspire against them, Helen must trust him with her darkest secret. The risks are unthinkable . . . the reward, a lifetime of incomparable bliss. And it all begins with…
Marrying Mr. Winterborne.
"Cariad...there's nothing gentle about how I want." He was startled by the endearment that had slipped out, one he had never used with anyone.
Oh man I took to0 long to read this book because I feel like it was a five star read but it felt like it dragged in some areas (or maybe that was just me because I always want everything to happen at a breakneck speed). But quite frankly, Mr Rhys Winterborne has joined the ranks of my favourite Lisa Kleypas heroes. So I'm sure like the rest of the world I was enthralled and besotted the minute we were introduced to Winterborne in Cold-Hearted Rake, I mean he literally stole the story and from that point onward I was panting for the next scene with Helen and Rhys. And trust me this book far exceeded my expectations. Rhys, is the epitome of my kind of HR hero, actually whatever genre of romance I'm reading. His character exuded confidence, strength, dominance but also Rhys was a really sensitive guy although he might not have dealt with his emotions in the same manner as gentleman of the peer would. Let's not forget the fact that he is absolutely smitten with Helen. I like my heroes smitten or besotted... or both.
Now about Helen, I was pretty sure her character would be overwhelmed by Rhys' character, yes her she had strength but it was understated in the first book. But in this book she really blossomed, I have to say I was very happy to note that her character was driven and she could be independent too. Hers and Rhys interaction constantly kept me on my toes and yes in a state of arousal because lets be honest, Rhys is incapable of keeping his cool around Helen. These two made fireworks together, they were passionate and just plain frenzied around each other but they did have moments of quiet when they would just bask in their mutual love.
Closing his eyes, he pressed his jaw gently against her small ear. A half-minute passed before he could find his voice. "You've read the fairy tales. You know what happens to little girls who visit wolves."
About the supporting characters:
Pandora and Cassandra brought some comedic relief to the story but I will admit that Pandora is probably my favourite and I am literally foaming at the mouth for her book and lets not forget about who the hero is!!! I just know their book is going to be epic. A special mention is needed for Dr Gibson, my God please tell me she's going to have her own book because seriously there's so much potential there!
Once again I wonder why it is that I took so long to join in the Lisa Kleypas fandom because she is everything.