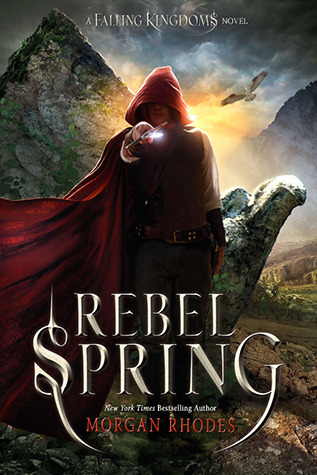 BLURB
The road to power...is paved with blood and magic.

Cleo
is now a prisoner in her own palace, forced to be an ambassador for Mytica as the evil King Gaius lies to her people.
Magnus
stands to eventually inherit the new kingdom but is still obsessed with his feelings for his adopted sister, Lucia.
Lucia
is haunted by the outcome of the breathtaking display of magic that allowed her father to capture the kingdoms.
Jonas
watched at the palace gates a troop of rebels behind him, waiting for him to tell them how he plans to overtake King Gaius.
After a bloody siege, Auranos has been defeated, its young queen orphaned and dethroned. The three kingdoms—Auranos, Limeros, and Paelsia—are now unwillingly united as one country called Mytica. But the allure of ancient, dangerous magic beckons still, and with it the chance to rule not just Mytica, but the whole world over....
At the heart of the fray are four brave young people grappling for that magic and the power it promises. For Cleo, the magic would enable her to reclaim her royal seat. In Jonas's hands, it frees his nation, and in Lucia's, it fulfills the ancient prophecy of her destiny. And if the magic were Magnus's, he would finally prove his worth in the eyes of his cruel and scheming father, King Gaius, who rules Mytica with a punishing hand.
When Gaius begins to build a road into the Forbidden Mountains to physically link all of Mytica, he sparks a long-smoking fire in the hearts of the people that will forever change the face of this land. For Gaius's road is paved with blood, and its construction will have cosmic consequences.
BUY IT HERE --> AMAZON
I'm not sure why I'm even trying to attempt to explain how I felt while reading this book! My emotions where put through hell and back, why did I wait so long to read this series?!
Book one ended off with a huge death count, and the siege of the Auranian kingdom. In book two Princess Cleo, is a royal prisoner, King Gaius has her trapped in what used to be her home. The Auranian people are fooled into believing she's happy and safe but this is far from the truth. I loved Cleo in this book, she grew so much. She literally became this cunning and confident creature that is hell bent on getting her kingdom back and taking her place as the rightful queen.
I started getting really worried about Prince Magnus, the rejection his sister dealt him very nearly turned him into his father and I hate King Gaius! Speaking of King Gaius, he drops a bomb that involves Cleo and Magnus very early in the book and I can't say I was very disappointed...
Princess Lucia, is in a mysterious coma that no one can explain and her father King Gaius grows impatient. His plans for to find the Kindred rely heavily on Lucia and her magic.
Jonas is the leader of a band of rebels, he's determined to avenge his brother's death and free the Paelsian people. Amidst all of this are the watchers, who are also planning their own liberation from the sanctuary that has become their prison.
I loved this book, I loved this book, I loved it!!! It's been awhile since I have been so immersed in a fantasy series with the barest hint of romance, that should tell you how awesome it is! I'm not sure if I mentioned this in my review of the first book, but this series does not read like a YA fantasy. It's brutal people, book one had a huge death count but this book was bordering on massacre!!! Something else I didn't mention in my previous review was the world building, I am so in love with Mytica I feel like I've lived there, like I've seen and visited Paelsia, Auranos and Limeros. If you're looking to read something different from your usual genre that I would absolutely recommend this series!
And lastly Prince Magnus or Jonas?