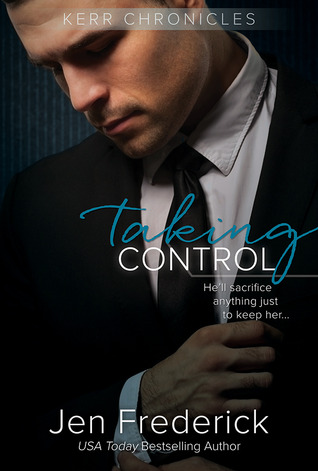 I thought I needed only one thing in my life--the money and power to crush one man. But the moment I laid eyes on Victoria Corielli, my thirst for revenge was replaced by my craving for her.
No rule would keep me away; no obstacle too large to overcome. Not her will, not our differing social positions, not my infamous past. When she lost everything, I helped her pick up the pieces. When she trusted me with everything, she sealed her fate.
I've convinced Victoria she can put her heart in my hands. Now I have to protect it--from her shady stepfather and my business rivals, from enemies known and hidden. I'll do anything to keep her. And I might have to prove it, because now Victoria''s risking more than her heart to be with me; she's risking her life.
September 16th

3.5-4 Kerr INC Stars!
WARNING: This review is really vague...Sorry.
____________________________________________
About The Story
____________________________________________
Taking Control, picks up right where
Losing Control
left off. Ian and Tiny (Victoria)are comfortable in their relationship together, although Tiny does second guess herself every now and again. Ian is deeply in love and possessive of Tiny, to the point of him not really caring about the revenge he sought in the last book. Tiny feels as if Ian is giving up too much for her and is dead set on helping him achieve his previous goals, before she came along. Ian has many enemies, ones he isn't even aware of, and these enemies are willing to destroy everything that has made him into the man he is.
1. His fortune
2. Mostly importantly, Tiny Corrieli
____________________________________________
My Thoughts
____________________________________________
Gosh, I really don't want to give this book a low rating especially after having read an erotica and loving it. But the main reason Taking Control didn't work for me is sex. Sex for the first 30% of this book had me on my last nerve. Now I did question myself, "Christine, WTF?" and it all comes down to expectation. Obviously this isn't the first book I've read by Jen Frederick and it won't be my last. But I've come to expect, more story, slow build intense scenes and yes really steamy sex scenes. But for some reason when I started reading this book, Ian seemed like some other unknown character. He speech was way too formal, his dirty talk was over the top, and then he said this:
(view spoiler)
[ "Bunny are you kidding? I was inside you without a condom. It felt like fucking heaven. I could not care less if you have a hundred diseases. I want you in any form you come to me. And for the record. I'm pretty sure you're clean. You'd never expose me to any danger, just like I wouldn't willingly expose you to danger." (hide spoiler)]
WHAT THEE FUCK, IAN???
I had to put the book down, and trust me it was a good decision. From about the 35% mark I started really getting into the story, thank goodness! I honestly don't know what happened but Ian went back to being his old funny, intense and possessive, sometimes a jerk self. Suspense, mystery and intrigue played a major part in this book and I was on my toes till the very end. This review sounds very negative, right? Trust me this book was really good despite the huge stumbling block in the beginning of the story.
Lastly there were a few side characters that I loved in this book, Kaga being my favourite. I really, really want his story and I really hope the author is planning on writing his story soon!
____________________________________________
Some of my favourite quotes
____________________________________________
____________________________________________
"Are you always going to assume that every man wants even when I'm eighty, wrinkly, and my boobs are near my knees?"
"Yes and every man that doesn't is simply not right in his head. I won't be able to get enough of your geriatric ass."
____________________________________________
Series: Kerr Chronicles
Book 1:
ARC kindly provided by author in return for an honest review