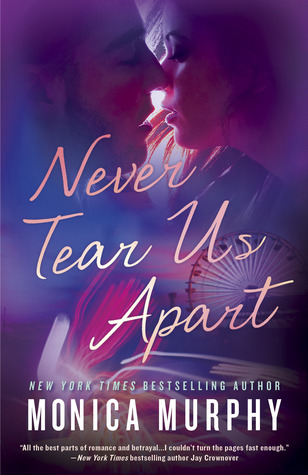 Perfect for readers of Colleen Hoover, Jay Crownover, and K. A. Tucker, the first novel in this darkly sexy contemporary series from bestselling author Monica Murphy kicks off an emotionally powerful two-part tale of forbidden love.
Crazy how eight years can disappear in an instant. One look at Katie Watts, and I'm a fifteen-year-old again—the one who risked everything to save a terrified girl from her twisted kidnapper. She's grown-up now—beautiful, quiet, composed—and telling her story to the world. A story that involves me in more ways than you can imagine. She used to call me her guardian angel. Sure, I risked my life, but she was worth dying for.
I need to make contact with her. Just to ensure that she's safe.
Somehow we reconnect. We become friends . . . but I want more. I want to make her mine. And she wants me too. Does she know who I am? Has she figured me out? Not yet. But she will. In the meantime, I need to make sure that whatever hold that animal had on her is gone.
So, yeah, I'm stealing these moments with her. Savoring them. Knowing, dreading, that she'll soon find out who I really am. And everything
will
fall apart. All because of that twisted, perverted monster sitting on death row. Her kidnapper. A convicted serial killer.
My father.
4-4,5 STARS
This was a totally different book from what Monica Murphy usually writes. Katie and Ethan's story was definitely a unique one, it has nothing to do with her other stories.This story is so emotional, heartbreaking and intense.
"I know the remnants from my old one would cling to me.The worry.The fear.The sadness.They're hard to get rid of.Even harder to live with."
The writing is so beautiful and the back and forth make the story realistic and make you understand what happened.The plot was captivating and will keep in suspense waiting for what will happen next.
Katie and Ethan were so cute and sweet. Their connection was so intense and I felt all their emotions. I loved Katie and I like that she grew as a character from the start to the end of the book. And Ethan OMG he was so sweet I liked him a lot. He cared for Katie and he only wanted to protect her.
"As I spend more time with him,he also makes me feel safe.Protected."
I loved this story and I want so badly to read the next book and see what will happen next !I believe that you should definitely read this book!!
*An advance reading copy was generously provided to me via the publisher on NetGalley in exchange for an honest review.*